Samsung OLED TVs are some of the best you can buy in 2023. With stunning picture quality, sleek designs and smart features, Samsung's OLED models represent the pinnacle of home entertainment. We'll recommend the top-rated Samsung OLED TV to consider purchasing this year.
We'll overview key things to look for when shopping for a Samsung OLED TV, do side-by-side comparisons of the most popular models, and provide tips to help you choose the right OLED TV for your needs and budget.
Overview of Samsung OLED TV Technology
OLED, which stands for organic light-emitting diode, is considered the best display technology available today. On OLED TVs, each pixel emits its own light independently. This allows for perfect black levels, infinite contrast ratios, wider viewing angles and better color accuracy versus LED/LCD displays.
Samsung uses their own proprietary QD-OLED panel technology in their OLED TVs. QD-OLED adds a quantum dot layer to enhance brightness and color. Samsung QD-OLED televisions can get brighter than conventional OLED panels, making highlights really pop.
Owning a Samsung OLED TV means enjoying an unparalleled visual experience with your favorite movies, shows, games and more. Black levels are perfectly inky and infinite, shadow detail is outstanding, HDR pops beautifully, and images maintain fidelity from any viewing angle. Simply put, Samsung OLEDs deliver the best picture money can buy.
Now let's take a look at the most highly-rated current and upcoming Samsung OLED TV models that you should consider buying in 2023.
Samsung S95B OLED TV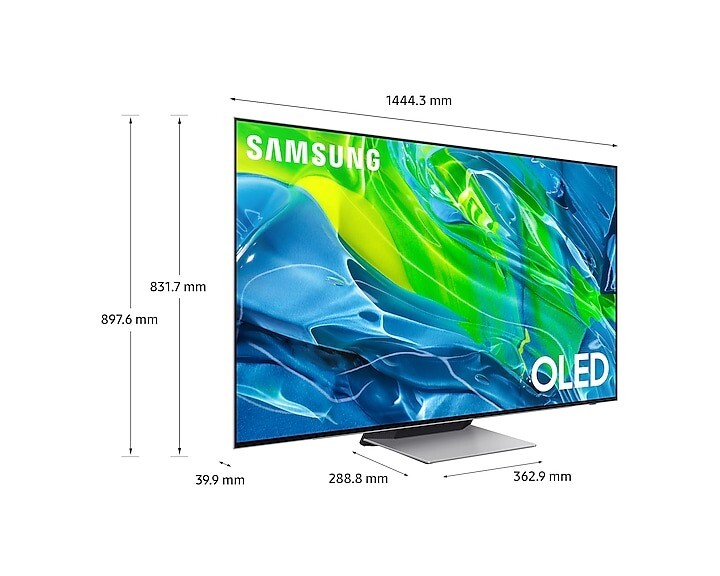 ➡️ Order NOW 
The Samsung S95B is the company's flagship 4K OLED television for 2022 and 2023. Available in 55, 65 and 77-inch screen sizes, this model offers the pinnacle of Samsung's display technology in a sleek, minimalist design.
Picture Quality
With Samsung's latest Neural Quantum Processor 4K powering the S95B, you get their most intelligent upscaling and image processing yet. Everything you watch is optimized on a pixel-by-pixel basis to deliver incredible detail and clarity.
The S95B's OLED panel with Quantum Dot technology produces intensely vivid, accurate colors with over a billion hues. High dynamic range content pops with expanded contrast and highlights. Inky true blacks provide endless depth. And viewing angles are nearly 180 degrees. Simply stunning.
Gaming Features
For serious gamers, the S95B is a top choice. It has an ultra-responsive panel with a 120Hz refresh rate and low input lag. Variable refresh rate support and AMD FreeSync Premium Pro provide silky smooth visuals. Fast action and high frame rate games are fluid and artifact-free.
Smart TV & Audio
Samsung's intuitive Tizen operating system gives you access to all the most popular streaming apps. Bixby voice assistance is built-in along with compatibility with Amazon Alexa and Google Assistant.
With Object Tracking Sound (OTS) Pro, audio seems to come directly from the onscreen action. The S95B also provides Dolby Atmos support for truly immersive surround sound.
Design & Connectivity
Impossibly thin and bezel-less, the S95B oozes modern elegance. The three-sided boundaryless design blends seamlessly into your viewing environment. A centralized One Connect box houses inputs for tidy cable management.
Four HDMI ports make connecting AV devices like gaming consoles and Blu-ray players a breeze. Wi-Fi 6E ensures fast streaming speeds and minimal buffering.
Key Features
55, 65 and 77-inch sizes
Self-lit QD-OLED display
4K UHD resolution (3,840 x 2,160 pixels)
120Hz refresh rate
Neural Quantum Processor 4K
Object Tracking Sound Pro
Dolby Vision/HDR10+/HLG support
AMD FreeSync Premium Pro
4 x HDMI ports
Pros
Best-in-class picture quality
Infinite contrast and perfect blacks
Bright, vibrant colors and expanded HDR
Excellent motion handling and gaming performance
Sleek, premium design
Easy to set up and use
Cons
Very expensive
Limited viewing angles compared to other OLEDs
No support for Dolby Vision IQ
Prices
55-inch (S95B): $2,197.99
65-inch (S95B): $2,997.99
77-inch (S95B): $4,997.99
The Samsung S95B OLED TV delivers phenomenal image quality and is highly recommended for those wanting the ultimate home theater experience. While priced at a premium, it's one of the best 4K OLED televisions you can buy from any brand today.
Samsung S90B OLED TV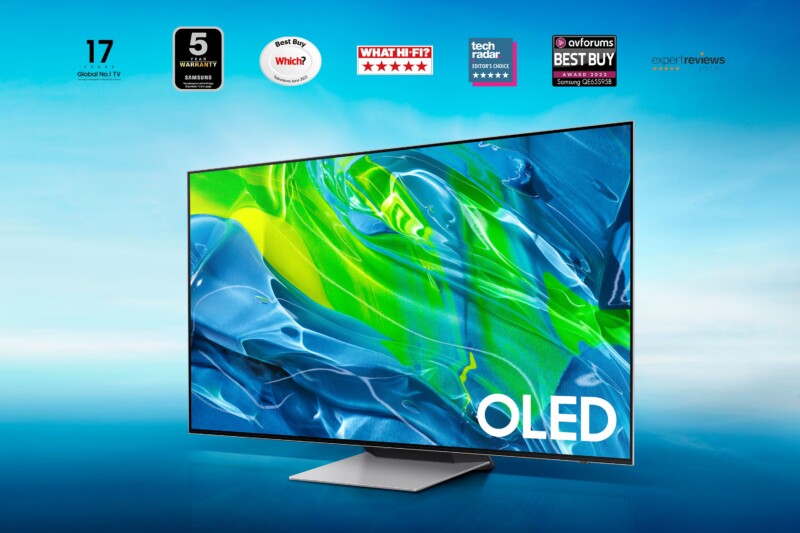 ➡️ Order NOW 
For a slightly more affordable high-end OLED option from Samsung, consider the S90B series. Available in 55 and 65-inch models, the S90B dials down some features to hit a lower price point while still providing an amazing OLED viewing experience.
Picture Quality
Like the S95B, the S90B uses Samsung's latest-gen QD-OLED panel mated to the Neural Quantum Processor 4K. So you still get sensational contrast, color and clarity. HDR images pop with vivid hues and inky blacks. You'd be hard-pressed to tell the difference between the S95B and S90B displays when watching movies and TV shows.
Gaming Features
Serious gamers may want to opt for the S95B instead, but the S90B still delivers extremely responsive gaming performance. The 120Hz panel refreshes quickly for fluid action, and input lag measures in at an impressively low 5.8ms. Casual gamers will be very satisfied with the S90B as a big-screen gaming display.
Smart TV & Audio
All the essential Samsung smart features and Tizen apps are included on the S90B. Bixby, Alexa and Google Assistant voice control are supported. The OTS Pro audio provides realistic 3D sound that makes movies and games more immersive.
Design & Connectivity
Nearly bezel-less and thin, the S90B sports the same gorgeous minimalist aesthetic as the S95B. Cabling stays hidden thanks to the centralized One Connect box. Wi-Fi 6 and HDMI 2.1 inputs provide fast connectivity speeds.
Key Features
55 and 65-inch sizes
Self-lit QD-OLED display
4K UHD resolution (3,840 x 2,160 pixels)
120Hz refresh rate
Neural Quantum Processor 4K
Object Tracking Sound
Dolby Vision/HDR10+/HLG support
4 x HDMI ports
Pros
Outstanding OLED picture quality
Deep blacks and vibrant accurate colors
Great HDR performance
Sleek, thin design
Speedy response times for gaming
Easy to use smart TV platform
Cons
Fewer features than S95B
Priced higher than traditional OLEDs
Lacks Dolby Vision IQ support
Prices
55-inch (S90B): $1,797.99
65-inch (S90B): $2,497.99
If you want nearly all the same exceptional viewing quality as Samsung's flagship S95B but at a more moderate price, the S90B fits the bill. It brings the visual splendor of QD-OLED to a more mainstream buyer.
Samsung S95C OLED TV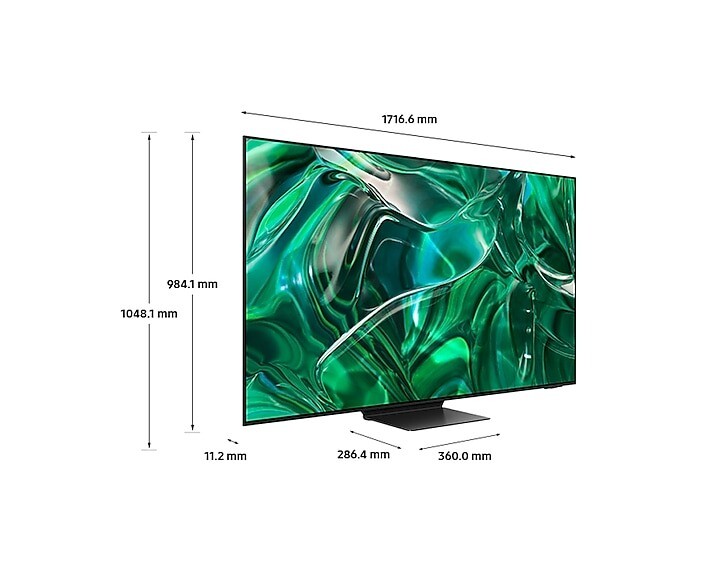 ➡️ Order NOW 
For those seeking the ultimate in big-screen OLED splendor for their home theater, Samsung offers their awe-inspiring S95C model in a gargantuan 77-inch size. It provides the same display technology and features as the S95B, just in a plus-sized package.
Colossal Cinematic Experience
With over 7 feet of diagonal screen real estate, the S95C immerses you into movies and shows like no other display. The extra large size unveils the full majesty of Samsung's 4K QD-OLED capabilities. Details and textures in imagery come to life, and landscapes dazzle. It's perfect for cavernous dedicated home theaters.
Room-Filling Sound
To pair with the screen's cinema-worthy visuals, the S95C pumps out room-filling sound through its powerful 4.2.2 channel speakers and 60-watt amplifier. Dialogue is clear and focused, while big action sequences erupt with heart-thumping bass and expansive surround effects. No need for a separate sound system.
Seamless Design
Even with its big 77-inch screen, the S95C maintains Samsung's stylishly minimalist aesthetics. The television is extremely thin and framed by subtle metallic bezels. A centralized stand provides sturdy support. This OLED TV makes a stunning statement piece.
Key Features:
77-inch screen size
Self-lit QD-OLED display
4K UHD resolution (3,840 x 2,160 pixels)
120Hz refresh rate
Neural Quantum Processor 4K
Object Tracking Sound Pro
Dolby Atmos support
Built-in 4.2.2 channel speakers and amplifier
Dolby Vision/HDR10+/HLG support
AMD FreeSync Premium Pro
4 x HDMI ports
Pros:
Massive, theater-sized 4K OLED picture
reference-quality image quality with QD-OLED
Built-in surround sound audio system
Sleek, clean industrial design
Easy smart TV features and apps
Cons:
Astronomical price
Won't fit smaller living rooms
No Dolby Vision IQ support
Price
77-inch (S95C): $8,999.99
If you have a sizable budget and dedicated home theater space, the S95C offers the most immersive big-screen Samsung OLED experience you can get. Its cinema-grade visuals and sound will blow you away.
Samsung QN90B Neo QLED TV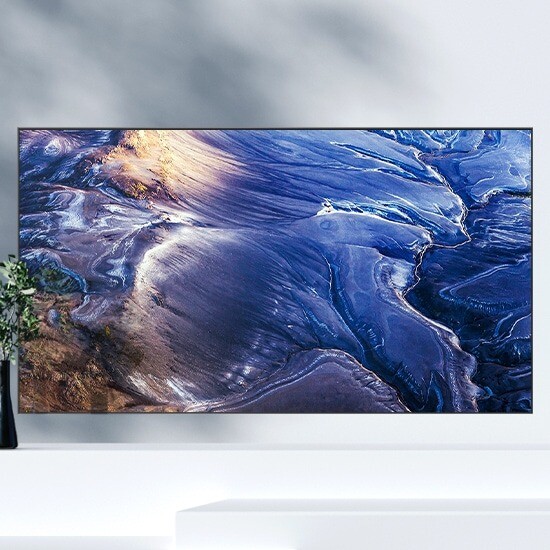 ➡️ Order NOW 
The QN90B is Samsung's flagship 4K Neo QLED TV for 2022 and 2023. This high-end LED/LCD model is an alternative for buyers who want excellent picture quality and smart features without the ultra-premium price of OLED.
Quantum Dot LED Display
While not OLED, the QN90B's Neo QLED display delivers some of the best performance you'll find from an LED TV. It uses mini-LED backlighting with Quantum Dots to produce deep blacks and intensely vivid, accurate colors. High brightness levels (up to 2,000 nits peak) make HDR content shine.
Contrast and Clarity
Samsung's 2022 Neo Quantum Processor 4K powers the QN90B's upscaling, HDR remastering, contrast enhancing and other imaging processing. Everything you watch appears crisp, clear and detailed, from sports to movies to gaming.
Game Mode Pro
For gaming, Samsung's Game Mode Pro technology reduces input lag to a lightning-fast 5.8ms. With variable refresh rate and AMD FreeSync Premium Pro variable refresh rate support, high frame rate gameplay flows seamlessly without tearing or stuttering. The QN90B is fantastic for PS5, Xbox Series X and high-end PC games.
Sleek Design
Nearly bezel-less and very slim, the QN90B sports a sophisticated, space-saving design. The centralized One Connect box keeps cabling organized for a clean look.
Key Features
55, 65, 75 and 85-inch sizes
Quantum Dot LED display
4K UHD resolution (3,840 x 2,160 pixels)
120Hz refresh rate
Neo Quantum Processor 4K
Mini-LED backlighting with local dimming
Quantum HDR 32X
Object Tracking Sound
AMD FreeSync Premium Pro
4 x HDMI ports
Pros
Bright, colorful and high-contrast picture
Excellent clarity and HDR
Fast gaming performance
Premium, elegant design
Smart Tizen platform
More affordable price
Cons
Not true OLED display
Blooming around bright objects
Visible dimming zones on dark scenes
Prices
55-inch (QN90B): $1,597.99
65-inch (QN90B): $2,197.99
75-inch (QN90B): $2,997.99
85-inch (QN90B): $3,997.99
The QN90B Neo QLED TV provides near-OLED quality images for less cost. If you want amazing visuals without the premium price of real OLED, it's a great option for 2023.
What Size Samsung OLED TV is Best?
One of the first things to consider when shopping Samsung OLED televisions is what screen size fits your room and needs. Samsung offers OLED models in 4K resolution ranging from 55 inches up to the massive 77-inch S95C.
Here are some tips on picking the right OLED TV size:
55 to 65 inches – Best for small to mid-sized living rooms. Provides a cinematic viewing experience without dominating the space.
75 to 77 inches – Ideal for large family rooms and home theaters. Allows you to see the full grandeur of OLED with big, immersive images.
83 to 88 inches – Overkill for most homes. These ultra-large sizes are massive and extremely expensive. Best reserved for palatial living rooms and screening rooms.
Measure room size – Make sure to measure the space where you will place the TV and consider optimal viewing distance. Bigger is not always better if a giant screen will overwhelm your room.
Sit about 1.5 times the screen size – The ideal viewing distance is around 1.5 times the diagonal length of the television. This allows you to see all the detail without excessive eye movement.
Consider 4K resolution – Larger screen sizes will benefit more from 4K resolution in terms of seeing extra clarity and detail from Ultra HD content. On smaller TVs, the differences are less noticeable.
Also think about your budget, seating arrangement, ambient light levels and whether you will wall mount or place the TV on a stand. This will help narrow down the models and sizes worth considering for your room.
What's the Best Samsung OLED TV for Bright Rooms?
If you have a living room or media room with abundant natural light from windows and skylights, consider these brighter-screen Samsung OLED models:
Samsung S95B – Samsung's flagship QD-OLED TV hits higher brightness levels than conventional OLED, making it a good choice for bright rooms. Go bigger for more impact.
Samsung S90B – Nearly matches the S95B's performance but costs less. The 65-inch model can combat glare well.
Samsung S95C – With its massive 77-inch screen, this TV will cut through ambient light to deliver incredible OLED images.
Use bias lighting – Installing bias lighting behind the TV refracts light to reduce glare. LED backlighting kits are inexpensive and easy to install.
Here are some other tips for placing an OLED TV in a bright room:
Position the television so windows are not opposite or directly behind it. Side window placement is best. Close drapes/blinds during daytime viewing.
Tilt the TV down slightly to reduce glare and reflections.
Enable automatic brightness adjustment to boost contrast when ambient light is detected.
Switch to Filmmaker Mode for more accurate color and detail in bright conditions.
Consider adding a soundbar to boost audio loudness over room noise.
With the right choice of model and placement, Samsung's OLED TVs can deliver amazing picture quality even in living rooms with lots of windows and daylight.
What's the Best Samsung OLED TV for Gaming?
For serious console and PC gamers who demand lag-free, buttery-smooth visuals when playing, consider these top gaming-focused Samsung OLED models for 2023:
Samsung S95B – This flagship 4K OLED television has the fastest response time (0.1 ms) and lowest input lag (4.5 ms @ 4K/120Hz) for real-time gaming action without blur or delay. AMD FreeSync Premium Pro support reduces tearing and stuttering for incredibly fluid gameplay. It also has a dedicated Game Bar to quickly adjust settings. If budget is no concern, the S95B is the best Samsung OLED TV for gaming.
Samsung S90B – Nearly matches the superb gaming performance and features of the S95B at a somewhat lower price point. Casual gamers can save money versus the S95B without sacrificing much in terms of gaming prowess.
Samsung S95C – Gamers with giant dedicated home theater rooms can go all-out with the S95C's massive 77-inch screen for the ultimate big-screen gaming experience.
Use Game Mode when playing – Don't forget to activate the TV's dedicated Game Mode whenever you use the OLED for gaming. It reduces input lag significantly while disabling unnecessary image processing to improve response.
Samsung's 2023 OLED models also support cutting-edge gaming features like variable refresh rate and ultra wide aspect ratios. For the smoothest, most immersive gaming visuals at up to 4K 120fps, Samsung OLED TVs are hard to beat.
What's the Best Samsung OLED TV for Movies & TV Shows?
For an incomparable cinematic viewing experience with movies and television shows, these Samsung OLED models are our top recommendations:
Samsung S95B – As Samsung's flagship 4K OLED TV, the S95B offers reference-quality picture quality for films. Infinite contrast, intense color, perfect black levels and pixel-precise local dimming result in images that pop with detail. A cinema mode further refines settings for movie watching.
Samsung S95C – The S95C's gigantic 77-inch screen provides a truly theater-like experience for watching movies at home. OLED technology delivers inky blacks and vibrant, realistic imagery. Built-in surround speakers immerse you in the action. Ideal for dedicated home theaters.
Samsung S90B – While smaller and cheaper than the S95B/C models, the S90B still provides spectacular OLED picture quality that makes films come to life. This more affordable series sacrifices little in terms of film performance versus the pricier options.
Use Filmmaker Mode – Samsung OLED TVs have a dedicated Filmmaker Mode that automatically switches the television into the optimal settings for enjoying cinematic content as the director intended. It disables motion smoothing and other video processing that can ruin the experience.
Here are some other tips for enjoying movies and shows on a Samsung OLED TV:
Stream 4K HDR movies for the best quality experience. Services like Netflix, Prime Video, Disney+ and Vudu offer robust libraries of 4K HDR films.
Upgrade Blu-rays to 4K UHD discs and invest in a player. You'll enjoy your movie library like never before on the OLED screen.
Calibrate picture settings if desired via test patterns and meters for pinpoint color accuracy and contrast.
Make sure any media devices and cables you use are HDMI 2.1 compliant for max 4K/120Hz, VRR, and uncompressed audio passthrough.
With their self-lit pixel technology producing perfect black levels, stellar contrast and cinematic colors, Samsung's new generation of OLED TVs provide the ultimate movie watching experience in the home.
What's the Best Budget Samsung OLED TV?
While Samsung's OLED TVs sit at premium price points, the following models deliver impressive performance for less cost versus flagship options:
Samsung S90B – For $1000's less than the top S95B series, the S90B provides nearly equivalent image quality with slightly fewer features. It's available in smaller 55 and 65-inch sizes. Picture performance punching far above its price makes this the best bang-for-your-buck Samsung OLED TV.
Samsung S95A – As the expected successor to the S95B in late 2023, the S95A will likely offer a very similar 120Hz QD-OLED screen and picture quality as Samsung's 2022 models, but in smaller 48 and 55-inch sizes at lower budget prices for 2023.
Consider open box/refurbished – Shopping Samsung OLED models that are open-box, refurbished or floor models can save you 10-20% off new-in-box televisions. Image quality will be indistinguishable from new. Just ensure the TV was properly inspected and tested.
Wait for older models to price drop – As Samsung releases its new OLED TV lineup each year, previous generation models often see significant price discounts in Open Box condition and remain stellar performers despite being a model year older.
Here are some other tips for maximizing value with Samsung's OLED TVs:
Shop end of model year sales in late fall for best pricing as retailers clear out old inventory.
Look for special discount programs like Black Friday sales, price matching guarantees, and bundle deals that add value by including soundbars and media players.
Consider tiered retailers like Costco and Sam's Club, which often offer aggressive pricing and extended warranty coverage on premium TVs like Samsung OLEDs.
While still expensive compared to conventional LED-LCD TVs, Samsung's OLED models deliver some of the very best picture quality and performance available on the market at reasonable prices within the premium OLED tier.
Key Buying Considerations for Samsung OLED TVs
Here's a quick rundown of the most important factors to keep in mind as you shop Samsung's lineup of Organic LED televisions:
Price – Samsung OLEDs sit at the upper end of the price spectrum, from around $1800 up to $9000 for the largest models. Determine your budget beforehand.
Screen Size – Consider what sizes make sense for your room based on viewing distance. Models range from 48 to 77+ inches.
Picture Quality – Samsung OLED TVs deliver the best images available with perfect blacks, brilliant color, noise-free clarity and wide viewing angles.
Audio Quality – Sound is usually an afterthought on thin OLED TVs. Investing in a good sound bar improves the experience. Models with built-in audio like the S95C sound better out of the box.
Smart TV Features – Samsung uses the intuitive, app-rich Tizen smart TV platform powered by a fast quad-core processor for smooth navigation and streaming.
Gaming Performance – With HDMI 2.1 inputs, fast response times and variable refresh rate support, Samsung OLED TVs are fantastic for gaming with the latest consoles and PCs.
HDR Support – Premium HDR formats like HDR10+, Dolby Vision and HLG are supported for enhanced color, contrast and brightness with HDR content and games.
Future Proofing – Samsung OLED TV's HDMI ports, processing power and picture capabilities will stay relevant for years so you can enjoy future content too.
By weighing factors like price, features, performance and room fit, you're sure to find a top-rated Samsung OLED television perfect for your 2023 home theater.
The Bottom Line
With their self-lit QD-OLED pixel technology producing unrivaled contrast and viewing angles, Samsung's latest generation of 4K Ultra HD televisions reset the bar for flagship home theater display quality. Models like the S95B and S90B series deliver profoundly lifelike visuals that make images nearly jump off the screen with vibrant nuanced color, infinite blacks and pixel-perfect local dimming. Combined with polished, minimalist designs and Samsung's superb Tizen smart platform, these OLED TVs bat away the competition to stand tall as some of the best money can buy.
While expensive compared to LED/LCD counterparts, Samsung OLED TVs offer a dream-worthy home theater centerpiece that pleases the eyes while providing many years of stellar performance. We hope this detailed buyer's guide helps you select the perfect top-rated Samsung OLED television to buy in 2023. Happy viewing!