Microsoft is one of the world's largest and most influential technology companies. Its software products and services are used by billions of people across the globe. While Microsoft's story spans decades, it traces back to its origins in the early days of personal computing and a partnership between two young entrepreneurs – Bill Gates and Paul Allen.
Microsoft's Founding in 1975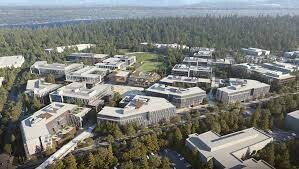 Microsoft was co-founded in Albuquerque, New Mexico in 1975 by Bill Gates and his childhood friend Paul Allen. Gates and Allen had been informally collaborating on software projects since high school.
In 1975, the MITS Altair 8800 personal computer kit became commercially available. Gates and Allen saw potential in the nascent personal computer field. They developed a version of the BASIC programming language that could run on the Altair 8800 and licensed it to MITS. This first product created by "Micro-soft" marked the start of the company.
Bill Gates served as Microsoft's CEO from the beginning, providing business acumen and an intense competitive drive. Paul Allen handled software development as Executive Vice President. Their complementary skills helped turn Microsoft into a software powerhouse.
Microsoft's early years were spent developing programming languages and tools for various personal computer platforms. By 1979, Microsoft formally established its headquarters in Bellevue, Washington. Throughout the 1980s and 1990s, Microsoft shifted its focus to creating operating systems and productivity software that would come to dominate the growing PC industry.
MS-DOS Established Microsoft's OS Dominance
Microsoft made its pivotal entry into operating systems with MS-DOS (Microsoft Disk Operating System). When IBM released its first personal computer in 1981, Microsoft licensed an adapted version of 86-DOS to IBM, branding it as PC-DOS on IBM PCs. Microsoft also sold this OS as MS-DOS for non-IBM computers.
MS-DOS provided the core software platform for the IBM PC line. As IBM PCs and PC clones grew to define the personal computing landscape in the 1980s, MS-DOS became the standard OS. Microsoft licensed MS-DOS to multiple PC manufacturers, setting the stage for its OS supremacy.
The widespread adoption of MS-DOS gave Microsoft the user base, developer ecosystem, and credibility to expand its operating system efforts. Following MS-DOS, Microsoft created the Windows family of operating systems and the NT kernel that powers Microsoft's OS offerings to this day.
Microsoft Office Built On Software Productivity D ominance
Complementing its operating system offerings, Microsoft aggressively pursued the productivity software market across the 1980s and 1990s. Key products that came to comprise Microsoft Office included:
Word – Microsoft Word, which debuted in 1983, quickly dominated the word processing software category. It was bundled with MS-DOS computers and became central to PC productivity.
Excel – The 1985 launch of Microsoft Excel gave the company a foothold in spreadsheets. Excel incorporated innovative visuals and charting tools.
PowerPoint – Microsoft PowerPoint, originally named Presenter, was launched for Macintosh in 1987. It provided feature-packed presentation software and became ubiquitous in business settings.
Access – Microsoft Access debuted in 1992 as Microsoft's database management entry. It offered approachable DBMS tools for mainstream business uses.
Microsoft continually honed and bundled these core applications into Office suites. Microsoft Office leveraged the company's OS lock-in to achieve near complete control of the productivity software market throughout the 1990s and 2000s.
Windows OS Cemented Microsoft's Platform Dominance
While MS-DOS underpinned its initial rise, Microsoft's flagship Windows operating system cemented the company's dominance in the 1990s computing era. Early Windows versions introduced the graphical user interface and ran on top of MS-DOS.
The release of Windows 95 in 1995 marked the height of global Windows fever, as Microsoft's famous advertising blitz turned the OS into a mainstream cultural phenomenon. Subsequent Windows versions like Windows XP and Windows 7 evolved the OS while maintaining backwards compatibility.
Microsoft ensured Windows was pre-loaded onto the vast majority of new PCs. The standardization of Windows made it the default platform for both users and software developers. Microsoft also bundled core apps like Internet Explorer, Windows Media Player, and Office into Windows, leveraging the OS to drive adoption of other Microsoft technologies.
By the late 1990s, Windows enjoyed a vice grip on the desktop OS market with over 90% market share, establishing Microsoft's position at the center of the personal computing ecosystem.
Expanding into New Markets
Leveraging its foothold in OS and productivity software, Microsoft expanded into server operating systems and enterprise software in the 1990s. Windows NT provided the foundation for Windows Server products that came to lead the client-server OS market.
Key enterprise offerings included SQL Server, Exchange Server, and Microsoft Office suite. These products allowed Microsoft to dominate business and organizational computing alongside consumer markets.
Other influential Microsoft products spanning hardware, developer tools, and entertainment included:
– The Xbox gaming console and Xbox Live online gaming service
– Microsoft Surface tablets and the interactive Surface Hub
– SQL Server and Visual Studio developer tools
– Windows CE for powering handheld devices and embedded systems
– Microsoft Edge as a cross-platform web browser
– Microsoft Teams for business communication
– Cloud services like Azure and Office 365
Through combinations of internal development and strategic acquisitions, Microsoft expanded its influence across the technology landscape since its early days.
Windows Challenges and Changes
Microsoft's business practices regarding Windows resulted in a long running antitrust case from the U.S. Department of Justice. The case commenced in 1990 and was finally settled in 2001. It centered on Microsoft's bundling of apps like IE and Media Player into Windows.
In the 2000s, Microsoft faced new challenges in the form of alternative operating systems. The emergence of smartphones and tablets running iOS and Android cut into the Windows monopoly. In the 2010s, Chromebooks began displacing Windows laptops in education and budget-friendly markets.
In response, Microsoft adopted a new "Windows as a service" model with Windows 10. Instead of big releases, Windows 10 introduced continuous updates delivered via the cloud. Windows 10 also aimed for a unified OS experience across PCs, phones, tablets, and Xboxes. Microsoft shifted to subscription models for Office and cloud services to evolve its business past software licenses.
Microsoft Today and Into the Future
Today, Microsoft remains one of the most valuable companies, with a market cap exceeding $2 trillion. While no longer enjoying the OS dominance of the 1990s, Microsoft has pivoted to remain a leader across new markets like cloud, mobile, gaming, and enterprise software.
Windows and Office still have hundreds of millions of users each. Azure has become a top-tier cloud platform. The Surface series offers innovative premium devices. With acquisitions like LinkedIn and Nuance Communications, Microsoft continues making strategic moves to expand its ecosystem.
Looking forward, Microsoft is positioned to remain influential, with massive resources and the ability to enter new product categories. The company Bill Gates and Paul Allen launched in 1975 continues evolving, but it still reflects a spirit of innovation and thirst for technology frontiers. Whether another 46 years or beyond, Microsoft's next chapters will shape the technology landscape for generations to come.
—> Recommended
Microsoft's rise from upstart software firm to personal computing titan indelibly impacted modern technological history. Driven by the vision of Bill Gates and technical prowess of Paul Allen, Microsoft harnessed the early days of the PC revolution to become the dominant force in desktop OS and productivity software. Windows and Office ensured Microsoft's influence and affluence for decades. While its stranglehold has loosened in a cloud-centric world of diverse devices, Microsoft remains a leader across emerging arenas and one of the world's most valuable brands. The foundations poured by Gates and Allen sustain Microsoft's ongoing evolution and epoch-spanning technology influence.