Apple's latest 2023 updates to the MacBook Pro 14-inch and 16-inch now feature the blazing fast M3 chip. With significant speed and efficiency improvements over previous Apple silicon, the M3 unlocks new levels of performance for creative pros, developers, and power users.
But between the two sizes, which new MacBook Pro is right for your needs? In this in-depth comparison, we'll examine how the latest 14-inch and 16-inch models stack up in key categories like portability, display, battery life, and overall performance. Read on for a detailed breakdown of specs, benchmarks, use cases, and buying recommendations for both phenomenal M3-powered MacBook Pros.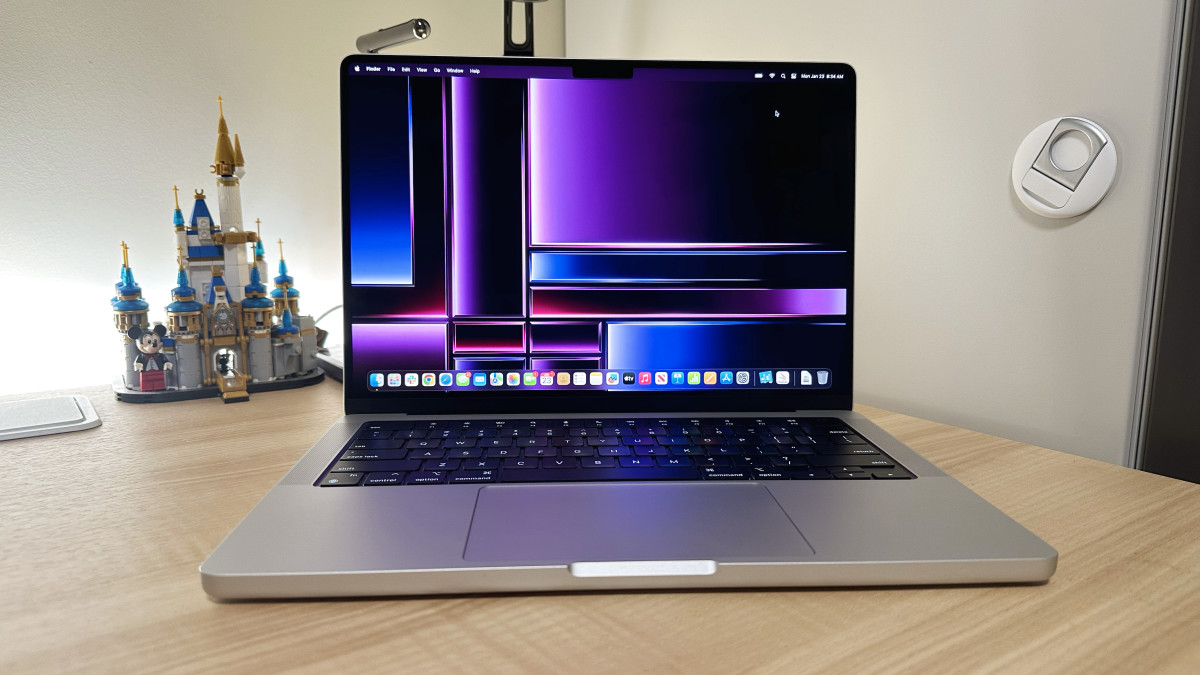 BUY NOW on Amazon
Overview and Design
The MacBook Pro 14-inch and 16-inch share a consistent and durable design ethos focused on performance and usability:
Sleek, professional aluminum unibody construction with flat edges
Wide range of color options including Space Gray and Silver
Abundant I/O ports including Thunderbolt 4, HDMI, SD card reader, and MagSafe 3 charging
Backlit Magic Keyboard with physical Esc and Function keys
Large Force Touch trackpad optimized for gestures
1080p webcam with advanced image signal processor
Both models have the same overall look and feel. The most obvious physical difference is screen size, with the 16-inch model featuring more expansive display real estate. We'll examine the displays next.
Display: True Tone Liquid Retina XDR
The stunning Liquid Retina XDR displays are a hallmark of both MacBook Pro models. Key traits:
Uses mini-LED backlighting with advanced local dimming for bright highlights and deep blacks
Produces up to 1600 nits peak HDR brightness and 1,000,000:1 contrast ratio
Supports 1 billion colors with P3 wide color gamut for true-to-life image accuracy
Enhanced True Tone technology adapts white balance to ambient lighting
Let's compare the displays:
14-inch Model
14.2 inch screen size
3024 x 1964 native resolution
254 pixels per inch (ppi) density
16:10 aspect ratio ideal for productivity
16-inch Model
16.2 inch screen size
3456 x 2234 native resolution
254 ppi density
16:10 aspect ratio
The rundown: Both displays look incredibly sharp and produce gorgeous, vibrant colors thanks to mini-LED, P3 gamut, True Tone, and extreme contrast. You'll be wowed editing HDR photos and videos on either.
The 16-inch model simply gives you more area if you need expansive screen real estate for timelines, canvas space, or seeing more code. But both are supremely immersive.
Performance: M3 CPU and GPU
The star of the show in both new MacBook Pros is clearly Apple's blazing fast new M3 chip. Let's examine how the M3 boosts performance:
M3 CPU
The 8-core M3 CPU delivers a hefty 30% generational gain in processor speed versus the previous M2 chip. Based on Apple's latest 5nm chip fabrication, it clocks up to 12-core GPU 3.5GHz.
For sustained workloads, the M3 chews through demanding tasks like video production, 3D rendering, data analysis, and compiling large projects effortlessly.
M3 GPU
The 10-core M3 GPU provides up to 30% faster graphics performance over M2. This enables buttery smooth AAA gaming, quick video export, and advanced creative workflows even on demanding 8K media files.
Benchmarks
In benchmarks, the M3 MacBook Pro dominates thanks to its chip upgrades:
Up to 39% faster CPU performance than M2 Pro
Up to 30% faster GPU versus M2
Up to 21% faster neural engine versus M2
All models pack at minimum 96GB/s of unified memory bandwidth for snappy performance across both CPU and GPU based workloads.
The rundown: Both the 14-inch and 16-inch models deliver a huge generational jump in speed and performance with the M3 silicon. You'll blaze through tasks and see buttery smooth gameplay thanks to the improved chips.
Battery Life: All Day Endurance
Despite their power, the new MacBook Pros still deliver excellent portable battery life:
14-inch model: Up to 18 hours wireless web browsing
16-inch model: Up to 15 hours wireless web browsing
The combination of Apple's efficient 5nm M3 chip and low-power Liquid Retina XDR display allows all-day work and play on the go. The 14-inch edges out the 16-inch slightly but both get long runtime before needing a recharge.
MagSafe 3 charging quickly regains 50% battery in just 30 minutes for both models when you do need a top up.
The rundown: Both deliver great battery endurance for such powerful creative laptops. The 14-inch lasts a bit longer when unplugged, but the 16-inch still beats most competitors.
Use Case Recommendations
With the specs and trade-offs covered, which new MacBook Pro is the better choice for specific use cases?
MacBook Pro 14-inch is ideal for:
Students and professionals who are often mobile thanks to the compact and lightweight design.
Creative fields like photography and design that benefit from outstanding HDR display capabilities in a smaller package.
General productivity, web browsing, email, and business applications where battery life is key.
Balancing power, display size, and supreme portability.
MacBook Pro 16-inch is better for:
Creative pros in film, music, development who need expansive screen real estate for timelines and complex tools.
Power users who demand the utmost performance in multithreaded workloads.
Gaming and graphics workloads that benefit from the fastest possible GPU and rendering.
Any tasks where the largest possible Retina display is beneficial.
Both models are excellent choices with similar capabilities. But your specific workflow should dictate whether ultra portability or maximum power is more important.
Buying Recommendations
Here is a quick summary of purchasing recommendations:
If mobility is critical, get the 14-inch model. The lighter design with extra battery life makes it ideal for frequent travel. Paired with the M3, it's an productivity and creativity powerhouse you can take anywhere.
If you want the pinnacle of performance, get the 16-inch model. The largest screen paired with M3 gives you max real estate and speed for intensive professional media workflows and development.
Get at least 1TB SSD storage. The base 512GB can feel cramped when working with large video and image assets or games. Upgrade to 1TB or more for professional use cases.
Max out RAM if within budget. While both start with 16GB memory, heavier multitasking benefits from boosting RAM to 32GB or 64GB if you can afford it.
Either new MacBook Pro is an excellent investment that will power you through years of intense workloads with ease. Let your specific needs guide which M3 powerhouse is the optimal choice.
Conclusion
The MacBook Pro 14-inch and 16-inch are Apple's best laptops yet for demanding professionals thanks to the new cutting-edge M3 chip. Both models deliver incredible performance and battery life in sleek, durable packages.
The 14-inch is ideal if you want maximum portability for on-the-go productivity. The 16-inch is the pinnacle of Apple power for creators who need sheer performance and expansive screen real estate. Let your individual needs and budget determine the best M3-powered MacBook Pro match.
Either way, 2023's updates to the 14-inch and 16-inch MacBook Pro cement their statuses as the best pro laptops on the market. Apple Silicon continues to push boundaries, making the M3 an easy choice for performance-driven users across industries like film, music, photography, development, and beyond.
Frequently Asked Questions
What is the difference between the M3 and M2 chip?
The M3 delivers around 20-30% generational performance gains in CPU, GPU, and neural engine tasks versus the prior M2 silicon. It uses an enhanced 5nm manufacturing process for more speed and efficiency.

Do the new models support Wi-Fi 6E and Bluetooth 5.3?
Yes, both the latest MacBook Pro 14-inch and 16-inch models support the fastest wireless connectivity standards, including Wi-Fi 6E and Bluetooth 5.3.

Can I use eGPUs with the Thunderbolt 4 ports?
Yes, external GPUs can connect via Thunderbolt 4 to accelerate workflows like gaming and video editing. But the M3 GPU is powerful enough that an eGPU is not required for most users.

How many external monitors can I connect?
The M3 MacBook Pros support connecting up to two external 6K displays, or up to four 4K external displays simultaneously when docked, thanks to new DisplayPort capabilities over USB-C/Thunderbolt 4
Do the new models support fast charging?
Yes. With the included 140W GaN power adapter and MagSafe 3 cable, the new MacBook Pros can fast charge up to 50% battery in just 30 minutes for quick top-ups.