When you think of major computer brands, Dell is likely one of the first that comes to mind. Dell revolutionized the personal computer industry by pioneering direct-to-consumer custom PCs sold via a flexible build-to-order model. But how did the company get its start? Who provided the vision and leadership that transformed Dell into one of the most recognizable names in technology?
As you may have guessed from the company name, Dell was founded by a visionary entrepreneur named Michael Dell. Building computers out of his college dorm room, Michael Dell challenged the status quo for how PCs were made and sold. His drive to provide customized computers directly to buyers ignited a sales model that made computers more accessible and affordable.
Over the past decades, Michael Dell has led Dell from a start-up to one of the largest tech enterprises worldwide. By staying adaptable and identifying key technologies of the future, he steered Dell into new markets beyond PCs, cementing its status as a diverse global tech leader.
Let's take a deeper look at how Michael Dell founded and grew his iconic company.
Michael Dell – The Early Years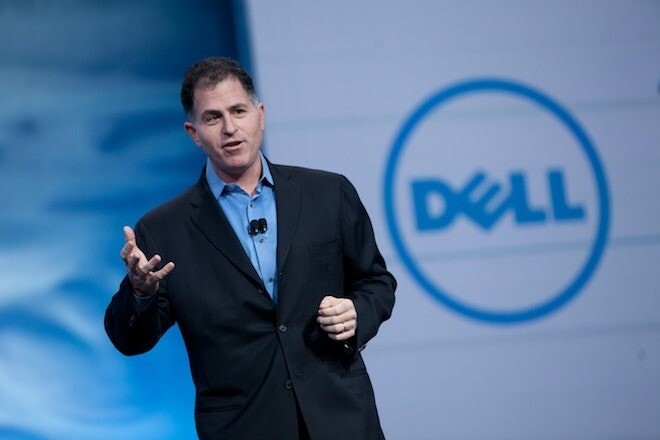 Michael Dell was born in 1965 in Houston, Texas to a Jewish family. His interest in computers took hold at an early age. At just 7, he applied for his first radio license and built a homemade telegraph machine. In high school, Dell invested his savings from part-time jobs into the stock market – especially technology stocks. He applied to be a computer reseller in order to qualify for discounts on parts he could use to build his own PCs.
Dell went on to study at the University of Texas at Austin, majoring in pre-med. However, he continued to be drawn to computers and technology. He upgraded PCs as a dorm room hobby, eventually dropping out of college to focus full-time on the growing PC business that would become Dell.
Founding a PC Company – Dell is Born
In 1984, a 19-year old Michael Dell registered his fledgling PC company as "PC's Limited." Operating out of his UT Austin dorm room, Dell would buy PC parts wholesale, assemble custom machines per customer orders, and sell PCs directly to buyers. This allowed PC's Limited to manufacture PCs faster and cheaper than rivals like IBM and Compaq, who relied on reseller networks.
The direct sales model also let customers customize configurations to their needs and only pay for what they needed – a major change from off-the-shelf machines. Dell also provided excellent customer service and support, winning business from large organizations as well as individuals. With this customer-driven strategy, Dell could better understand demand and turn over inventory quickly.
In 1985, the young company produced its first computer of its own design (previously it had sold PCs based on other vendors' designs). The Turbo PC featured an Intel 8088 processor and a speed of 8MHz. Dell advertised it as "the new standard in PC performance." This was the start of Dell designing its own systems tailored for customer needs.
Going Public and Becoming Dell Computer Corp
In 1988, just four years after starting in a dorm room, Dell Computer Corporation went public with an initial offering of 3.5 million shares. The company was listed on the NASDAQ exchange with the ticker symbol DELL. Shares opened at $8.50 on June 22, 1988.
The IPO raised $30 million and left 21-year-old Michael Dell with a stake valued at over $80 million. With the capital boost, Dell Computer Corporation continued its rapid growth. By the early 1990s, Dell was ranked #3 worldwide in PC sales, trailing only IBM and Compaq.
Continued Innovation in Computer Sales
A key to Dell's success was identifying segment needs and innovating sales methods. Examples include:
Focusing on direct custom orders as opposed to retail – Dell pioneered build-to-order selling direct via phone and later the web. Customers could configure exactly what they needed.
Serving large organizations – In 1987, Dell launched a new sales division focused on the needs of large organizations to become one of the top enterprise IT vendors.
Leveraging the internet – Dell was one of the first computer vendors to leverage the internet for sales. In 1994, customers could order customized Dell PCs online, accelerating growth.
Partnering with retailers – While keeping a direct sales focus, Dell formed partnerships with major retailers like Wal-Mart, Staples, and Best Buy to extend its reach in the 1990s.
These innovations allowed Dell to retain its direct relationship with customers while expanding options for buying. Dell also focused heavily on supply chain management and just-in-time manufacturing adapted from the automotive industry. By optimizing and keeping minimal inventory, Dell could keep costs low.
Dell: From PC Maker to Diversified IT Solutions Company
By the early 2000s, Dell was the world's top PC seller by units shipped. However, Michael Dell realized early on the importance of diversifying beyond just computer hardware. Some key moves included:
Services – Dell formed its managed services and cloud computing divisions to provide complete IT infrastructure solutions to enterprises.
Servers and networking – Dell expanded from PCs into servers, storage systems, and networking equipment for enterprise clients.
Software – Dell purchased software companies to expand its capabilities, including Quest Software for system management.
Laptops – Dell moved aggressively into the growing laptop segment, focusing on design, mobility, and customization.
Peripherals – Dell began offering monitors, printers, and other peripherals directly to consumers.
Gaming PCs – Dell acquired Alienware in 2006 to enter the specialized high-performance PC gaming market.
By expanding beyond just desktop PCs, Dell was able to grow revenue from $3 billion in 1993 to over $60 billion by the early 2000s. The company had successfully transformed from a PC maker into an IT solutions giant.
Surviving Challenges: Recessions, Competition, and Going Private
Despite its growth, Dell faced challenges over the years that at times impacted sales and profitability. However, Michael Dell's leadership helped the company emerge stronger than ever. Some of these challenges included:
Industry recessions – Personal computing sales slowed during regional recessions in the 1980s and 1990s. Dell managed through these periods by tightening spending.
Laptop competition – Lower cost laptops from rivals ate into Dell's desktop PC share starting in the mid-2000s. Dell later recovered by expanding its own successful laptop offerings.
Missing mobile – Dell was slow to adapt to the rapid rise of smartphones and tablets compared to rivals. But it later found success in two-in-one hybrid laptops.
Going private – To reboot the company away from short-term pressures, Michael Dell took Dell Technologies private in a $24 billion buyout in 2013.
Despite these roadblocks, Dell maintained its status as an essential technology provider for both businesses and consumers under Michael Dell's leadership.
Dell Today: A Global Leader in Digital Transformation
Now over 35 years from its start, Dell Technologies has cemented its place as one of the most important enterprise IT companies worldwide. Some key facts about the Dell of today:
Dell Technologies is a publicly traded company with Michael Dell as Chairman and CEO.
Total annual revenue is approximately $100 billion.
Dell employs over 165,000 people globally.
The company is #3 worldwide in PC unit shipments, behind Lenovo and HP.
Dell EMC provides data storage, cloud computing, cybersecurity, and other infrastructure products.
VMware, of which Dell owns a majority stake, is a leader in virtualization and cloud software.
Dell focuses heavily on sustainable manufacturing and recycling.
Dell partners closely with other major tech companies including Intel, Microsoft, and others.
In 2016, Dell acquired EMC for $60 billion – the largest tech acquisition in history at the time.
Dell is evolving its focus from hardware to complete IT solutions spanning PCs, infrastructure, services, and software.
Against intense competition, Dell has retained its position as a tech titan thanks to Michael Dell's constant drive to innovate and identify emerging opportunities. From its origins selling PCs out of a dorm room, Dell has grown into a globally respected provider of essential infrastructure enabling the digital economy.
Michael Dell's Legacy of Vision and Innovation
When examining the history of Dell, the ambition and business acumen of its founder and CEO Michael Dell becomes readily apparent. Still at the helm today, Michael Dell pioneered several innovations that helped launch and sustain the company's trajectory:
Direct-to-consumer custom PCs ordered via phone, mail, or online
Just-in-time manufacturing and supply chain management
Allowing customers to easily build PCs tailored to their needs
An early and effective use of the internet as a sales and support channel
Shifting the company into IT services, software, and enterprise infrastructure
Executing a massive turnaround by taking Dell private and rebooting the business
Thanks to the strategic foresight and leadership of Michael Dell, Dell Technologies has grown from a start-up to one of the most influential technology companies worldwide. Michael Dell remains an inspirational figure for aspiring entrepreneurs. His ability to continually re-imagine Dell and push it into new markets serves as a model for adapting to rapid change.
—> Recommended
Though no longer a plucky start-up operating out of a college dorm, Dell still retains that innovative spirit first kindled by its founder over 35 years ago. With Michael Dell still at the helm as CEO, the company continues to help businesses, governments, and consumers benefit from technological advances. Dell has played a key role in powering the digital economy – thanks to a persistent entrepreneur who saw the future potential of computers.