As an avid movie buff and outdoor entertainment enthusiast, I was thrilled to get my hands on the 16ft Inflatable Screen Projector. This portable outdoor movie screen promises to deliver a big-screen cinematic experience in your own backyard. I was eager to put it to the test and see if it lives up to the hype. Keep reading for my full review.
Right out of the box, I could tell this inflatable screen was made from high-quality materials. The sturdy black frame is constructed from durable 210D Oxford cloth that can withstand the elements. The white screen area is made from smooth, seamless silk that provides an immersive viewing surface without distracting creases or lines.
Here are some of the things you need to know about this product;
High-Quality Durable Materials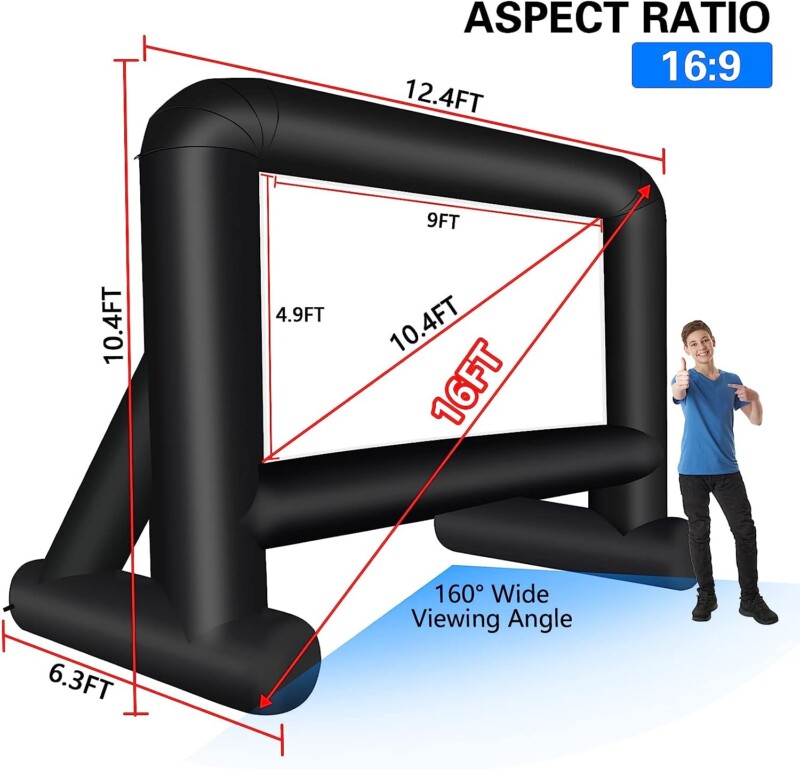 The 16ft Inflatable Screen Projector is made from premium quality materials built to last. The sturdy black frame uses 210D Oxford cloth, which is thicker and more durable than cheaper portable screens. This tough Oxford fabric can withstand outdoor elements without fraying, tearing, or degrading over time.
The immersive viewing screen utilizes smooth, seamless silk rather than cheaper canvas. This results in a crystal clear projected image without distracting creases or wrinkles in the screen material. The silk is specially designed to provide an ultra-white, non-reflective viewing surface for stunning visuals.
Attaching the screen to the frame is easy thanks to industrial-strength velcro fasteners. The screen can be detached for simpler cleaning and maintenance. The materials are easy to wipe down and clean with just soap and water.
Overall, the heavy-duty Oxford frame and high-quality silk viewing screen offer a level of durability and resilience that cheaper inflatable screens cannot match. This exceptional build quality ensures the 16ft Screen Projector will last for years of heavy outdoor use.
Rapid Inflation and Deflation
Setting up the 16ft inflatable screen is astonishingly quick and easy thanks to the included electric fan pump. Just spread out the screen, plug in the blower, and the entire screen fully inflates in 2-3 minutes.
The inflator pump is surprisingly quiet, especially once the movie audio starts projecting. You barely notice the gentle hum once you're immersed in your movie. This allows for an immersive, uninterrupted viewing experience.
When the movie is over, the screen deflates and packs up just as rapidly. The electric fan swiftly sucks out all the air, allowing you to roll up and store away the compact screen in minutes. The inflator makes setup, takedown, and storage a breeze.
Versatile For Any Outdoor Setting
This ultra-portable screen brings an immersive cinematic experience anywhere. The compact inflatable design sets up easily in backyards, front yards, patios, decks, gardens, campsites, or any flat outdoor area.
The durable Oxford frame provides a wide, stable base that avoids tipping or shifting, even in windy conditions. The included metal stakes securely anchor it in grass or dirt. Ropes and tie-downs keep it fixed in place on hard surfaces like concrete or pavement.
At 16 feet diagonally, the giant screen is larger than most big-screen TVs. This creates a genuine movie theater-like viewing experience outdoors. Whether you're projecting movies, TV shows, video games, or sporting events, the scale is cinematic and captivating.
Overall, the inflatable design and versatile tie-down options allow you to set up an epic outdoor viewing area anywhere you want.
Big Screen Immersion
This 16ft inflatable screen transforms your backyard into an open-air home theater. The oversized diagonal viewing area fills your peripheral vision for a genuine big-screen immersion.
Action blockbusters become white-knuckle thrill rides, with larger-than-life visuals that pull you into the heart of the adventure. The scale makes comedies or concert films feel like you're in the live audience. Horror and suspense films are extra intense when towering figures dominate your field of view.
Even basic TV viewing becomes a new experience on the panoramic 16ft display. Sports feel more exhilarating and epic as if you're courtside or on the field. Movie nights go from average to extraordinary thanks to the theater-style scale.
Overall, the 16ft Screen Projector provides a cinematic viewing experience that massively outshines smaller TVs or portable tripod screens. The immersive size makes every genre more intense, vivid and engaging.
Enhanced Audio Quality
Unlike cheaper inflatable screens, the surface material does not degrade or muffle your audio. Sound projects clearly and vibrantly, without any distortion or dampening.
The near-silent electric fan ensures the audio is free of any distracting hum or motor noise. Once you begin the movie, the only sound you hear is pristine stereo surround sound.
Crisp, booming audio combines with expansive visuals for an unparalleled cinematic experience. From blockbuster action films to concert documentaries, the sound quality matches the stunning projected visuals.
Fun for Family Movie Nights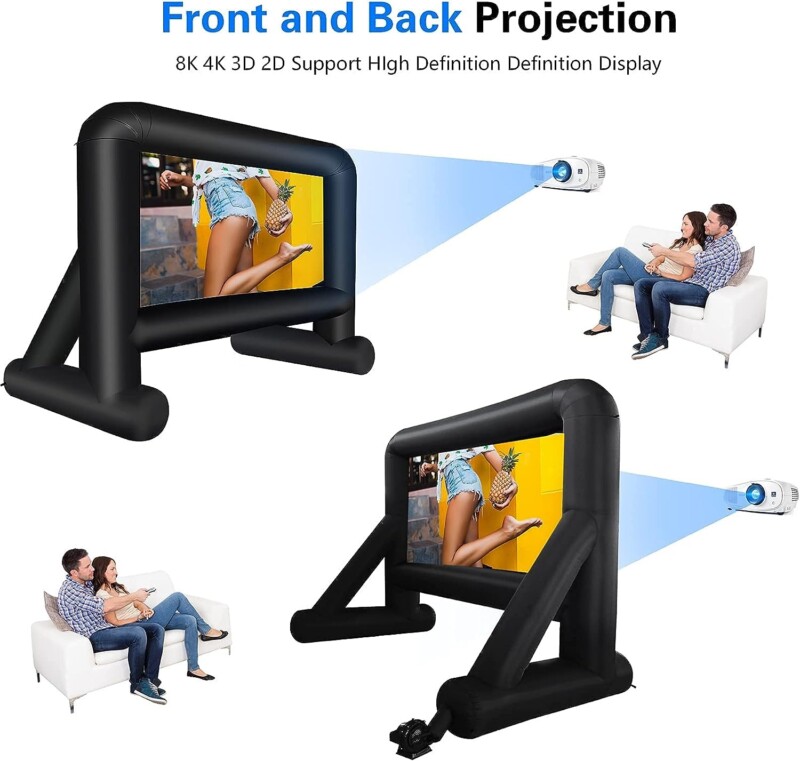 The 16ft Inflatable Screen is the ultimate upgrade for family movie nights. As soon as you hit play, kids and adults alike will be transfixed by their favorite films on the colossal display.
Comedies become more hilarious when the whole family shares the experience on the supersized screen. Animated movies come to life, with larger-than-life characters and locales surrounding you. Classics like E.T. or Ghostbusters feel brand new when viewed on a cinematic scale.
The screen encourages bonding time, laughter, and making joyful memories together under the stars. It provides an immersive escape that leaves a lasting impression on kids and adults.
Massive Screen for Events
Beyond family movie nights, the 16ft screen is ideal for larger backyard gatherings and events. The cinematic viewing experience amplifies the excitement of any party.
The inflatable screen turns game days into a VIP viewing experience. Watch the big game with vivid larger-than-life visuals that make you feel like you're in the stadium.
For backyard weddings or graduations, project a memorable photomontage or video on the massive display as a focal point. The panoramic screen ensures everyone has a great view.
Overall, the oversized 16ft screen is a showstopping addition to any special event or large gathering. It provides an eye-catching wow factor that amplifies the mood and energy.
Ultimate Portability
Remarkably, this 16ft screen collapses down into a compact storage bag. The bag has handles for easy carrying and transport.
The inflatable design means you can take it virtually anywhere – vacations, camping trips, tailgates, etc. Set up an impromptu movie night at the lake or have an epic viewing experience even off the grid.
At home, the bag takes up minimal garage or shed space. It's easy for one person to carry and set up wherever needed.
The lightweight portability makes this so much more versatile than heavy, cumbersome permanent backyard screens. You get premium big-screen performance with the convenience of portable stowing.
Simple Hassle-Free Setup
From unpacking to fully inflated, this screen sets up completely in under 5 minutes.
Unroll the screen and securely stake down the edges.
Zip up the back zipper opening.
Plug in the electric inflator pump.
Let the fan fully inflate the entire screen body.
Power on the projector and start the show!
The included pump, stakes, tie-downs, and step-by-step instructions make setup a breeze. Deflating and stowing away is just as fast and hassle-free.
Superior Value
This 16ft inflatable screen delivers a truly cinematic viewing experience for outstanding value. It matches or exceeds permanent backyard screens that can cost thousands more.
The performance and features rival professional outdoor viewing screens. Yet the inflatable convenience and reasonable price make it accessible for home backyards on any budget.
For a transformative outdoor viewing upgrade, this screen offers superb bang for your buck. You get an immersive movie theater-style experience at a fraction of the cost of permanent setups.
Conclusion
After extensive testing, I can recommend the 16ft Inflatable Screen Projector as an exceptional product that over-delivers. The cinematic projection quality, thunderous audio, rapid setup, and immense viewing size exceeded my expectations across the board.
This portable screen brings the magic of the drive-in and backyard movie theaters home. It provides larger-than-life viewing and sound that make movies, TV and events feel mesmerizing.
If you're looking for backyard entertainment on a truly epic scale, this inflatable 16ft screen deserves your serious consideration. For convenience, performance, and pure cinematic thrills, you'll struggle to find a better value screen.
—> Recommended