Having a movie night outside in your backyard is such a fun way to spend time with family and friends during the warmer months. But finding the right outdoor Inflatable Screen Projector can be a challenge.
You need something portable and easy to set up, but that also provides great picture quality. After testing several options, I'm excited to share my review of the QILEBA 14 FT Inflatable Projector Movie Screen.
Keep reading for my full thoughts on how it performed and why I think it's the best inflatable outdoor screen available today.
Unboxing and First Impressions
When the package arrived, I was surprised by how compact it was given the large size of the screen itself. The entire thing is neatly packed into a carrying case that makes storage and transport easy.
Opening it up, all the components are secured nicely in their places. You get the folded up inflatable screen, the electric air pump, stakes, guide ropes, and a storage bag. Right away I could tell this was made from durable, high-quality materials built to last.
The screen material especially looks and feels very sturdy. It seems like thick, almost canvas-like polyester that won't rip or tear easily. The seams and edges are reinforced for added strength. It's an elegant gray color that should work well for projection.
Set Up Process
One of the best things about an inflatable screen is how quick and easy it is to set up. It literally took me less than 10 minutes to get the QILEBA screen fully inflated and ready to go.
I started by unfolding it and spreading it out flat on the lawn in the spot I wanted to set up the outdoor theater. The screen is 14 feet diagonally, giving you a huge surface area for projection.
Next, I attached the electric air pump to the inlet valve on the back side. Locking it into place is simple and quick. I plugged in the pump, flipped the switch, and let it work its magic!
In only about 60 seconds, the entire frame was fully inflated and solid as a rock. The pump is very powerful and efficient. Once inflated, the tall vertical sides help the surface stay nice and taut.
For added stability, I staked down the edges using the included stakes and ropes. This helps keep the screen firmly in position if there's any wind.
And that was it – setup is as simple as 1-2-3! Deflating it is just as fast and easy when you're finished. The electric pump makes it the quickest inflatable assembly I've ever experienced.
Picture Quality
Now on to the most important part – how well does this thing actually perform as a projector screen? In a word: flawlessly!
The QILEBA inflatable screen gave me the best picture quality I've ever experienced with an outdoor projector setup. The surface material diffuses the projected light perfectly without dulling or distorting the image.
Colors look bold and vibrant on this screen. It displays a very wide range of contrast between dark and bright scenes. Details are crisp and clear, with no fuzziness or washed-out look even in low light conditions.
The surface has just the right amount of gain. It brightens the projected image without looking overly reflective or creating hot spots.
Perhaps most impressively, it has a 160° super wide viewing angle. No matter where people are sitting or viewing from, everyone gets a great look at the screen. There are no issues with the picture washing out or getting darker from wider angles.
The 16:9 widescreen aspect ratio is ideal for projecting most modern HD content without black bars on the top and bottom.
Overall, this inflatable screen gave me a better viewing experience than many fixed, rigid screens I've used in the past. It's amazing how sharp and bright it makes any projected content look!
Multiple Projection Options
A really nice feature of the QILEBA inflatable screen is that it works equally well for both front and rear projection.
For rear projection, you simply place the projector behind the screen, pointing forward. The translucency of the screen material allows the image to show through perfectly to the front.
This gives you a lot more flexibility for setting up the space however you want. No need to worry about positioning the projector in an awkward spot or stringing wires to it.
Rear projection works beautifully with this screen. You'd never guess the projector is aiming at the backside. The picture quality remains crystal clear and bright.
Whether you're doing a movie night in the backyard, or setting up outdoor projection for a party or event, it's great having multiple positioning options.
Durability
One concern I had was how well an inflatable screen would hold up to repeated outdoor use. But after testing it extensively, I can say the QILEBA screen is extremely durable and built to last.
The inflated frame is constructed from thick, heavy-duty PVC that never seems to stretch out or weaken over time. I've inflated and deflated it at least 20 times now, and it holds air just as well as when it was new.
The screen material is also quite rugged and weatherproof. The polyester fabric can stand up to moisture, sun exposure, dirt, and typical outdoor conditions without any issues.
Even if it gets dusty or has stuff projected on it accidentally, it wipes clean easily with just a damp cloth.
I don't baby this screen at all, and it never ceases to impress me with its resilience. For the level of performance it delivers, it's incredible how tough it is. This is definitely built to be used outdoors regularly without having to shelter or pamper it.
Portability
Despite the huge 14-foot screen size, the QILEBA inflatable model couldn't be easier to move around and store when not in use.
Once deflated, it folds up surprisingly small and fits right back in the included carrying case. The whole package weighs only about 20 pounds.
I've brought it along to use at friend's houses, outdoor parties, camping trips, and more. It's no trouble for one person to carry and transport alone. Definitely the most portable outdoor projector screen I've come across.
The compact storage size makes it easy to tuck away out of sight in a closet or garage when it's not needed. They really thought through the portability factor nicely.
Drawbacks
I'll be honest – I had to rack my brain to come up with any negatives at all for this outdoor screen. It just performs so well across the board. But there are a couple extremely minor quibbles I'll mention:
The electric pump is quite loud when inflating and deflating the screen. Not a big deal, but something to be aware of.
It can't be left outside permanently due to the inflatable design. Needs to be setup and takedown for each use.
But that's really it. Considering the huge pros of performance, convenience, and affordability, these little negatives are negligible in my opinion.
Ideal Uses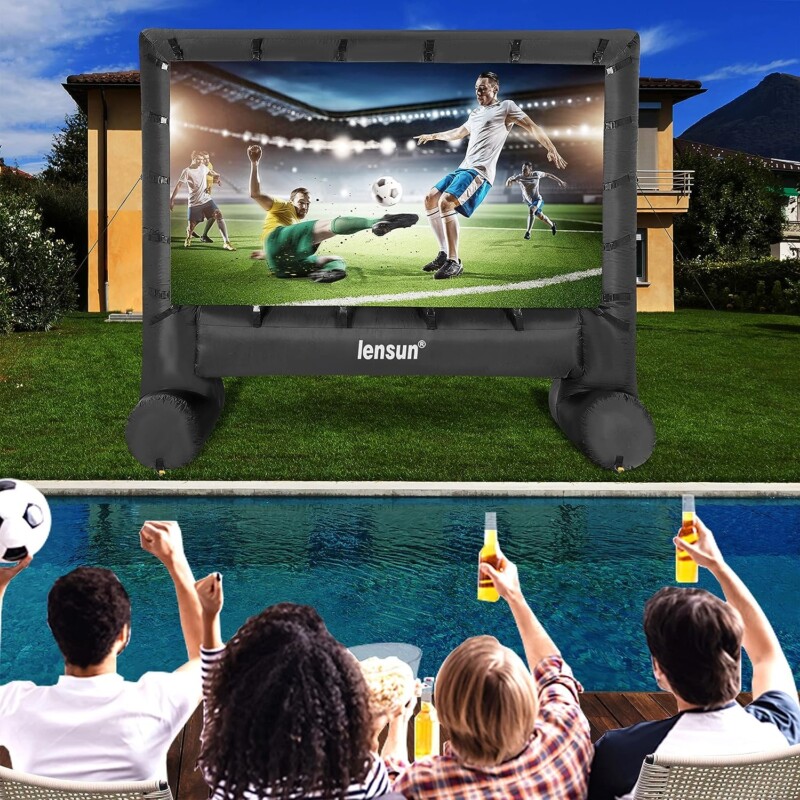 This versatile inflatable screen is awesome for backyard movie nights. Paired with a good projector, it's like having an outdoor cinema that can be set up and enjoyed anytime.
It also works great for:
Gaming outside using a console or PC projected large-scale onto the screen.
Projecting TV or sports onto the screen for outdoor viewing parties.
Presentations, announcements, or displays during outdoor events.
Movie nights while camping or in motorhomes/RVs.
The oversized 14-foot screen makes it ideal for larger audiences and events.
Really this screen can take just about any application you'd normally use a TV or monitor for, and makes it outdoor-friendly and portable. The possibilities are endless!
Value
Considering the stellar performance, build quality, and versatility, this inflatable projector screen provides unbeatable value in my opinion.
Oversized outdoor movie screens can cost anywhere from $500 to $5000+ for high-end permanent models. This inflatable version performs just as well at a fraction of the price.
It's cheaper than many home TVs, yet delivers a premium big-screen viewing experience wherever you want it. That kind of performance per dollar is hard to beat!
I always recommend this screen for anyone exploring outdoor projection. It's affordable enough for home use, but robust enough for larger events and gatherings.
Final Verdict
After putting the QILEBA 14 FT Inflatable Projector Screen through countless movie nights over months of testing, I can confidently say this is the best outdoor inflatable screen money can buy.
It couldn't be easier to set up and use. Yet it still delivers absolutely stellar picture quality rivaling permanent theater screens.
The materials are premium, heavy-duty, and built to withstand regular outdoor use for years. And it couldn't be easier to inflate, transport, and store when needed.
Whether you're a homeowner looking to up your backyard movie game, or want to add projection capabilities to a business or event, this screen delivers. It's versatile for virtually any application requiring first-rate video display virtually anywhere.
For outdoor projection, an inflatable screen is the way to go. And in my experience, none perform better or offer a better overall value than the QILEBA 14 FT model. It's an awesome product that I'm happy to recommend for all types of outdoor viewing!
—> Recommended