When it comes to subcompact electric cars, the Chevrolet Bolt stands out as an exceptional choice. Since its introduction in 2017, the Bolt has made waves in the market with its affordability, impressive range, and an array of appealing features and this Chevrolet Bolt Review is written to help you make the right choice.
In this comprehensive article, we will delve into the design, features, performance, pricing, and overall pros and cons of the Chevrolet Bolt. By the end, you'll understand why the Bolt is a strong contender that can rival other electric cars in the market.
Design and Features: Modern and Stylish
One of the key factors that sets the Chevrolet Bolt apart is its modern and stylish design. Available in both hatchback and sedan body styles, the Bolt caters to different preferences. The hatchback model offers a generous cargo capacity of 16.9 cubic feet, while the sedan variant provides 10.6 cubic feet of cargo space. The Bolt's sleek and aerodynamic lines contribute to its contemporary appearance, making it an eye-catching option for those seeking an electric car with a distinct personality.
Chevrolet has not compromised on technology and convenience features either. The Bolt comes equipped with a 10.2-inch touchscreen infotainment system, ensuring easy access to entertainment, navigation, and vehicle settings. Additionally, it includes a rearview camera for enhanced safety and a suite of driver assistance features for a confident driving experience. For those who desire additional luxuries, the Bolt offers optional features such as a panoramic sunroof, heated seats, and a premium Bose sound system.
Impressive Performance: Power and Range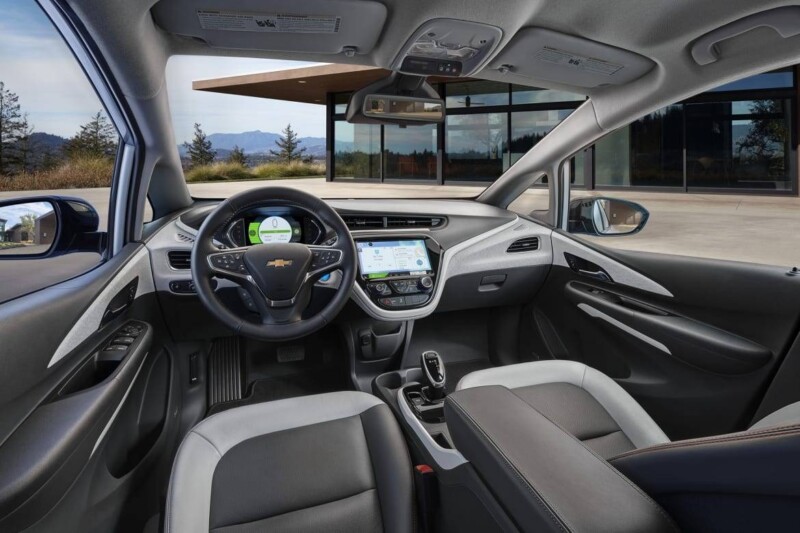 When it comes to performance, the Chevrolet Bolt does not disappoint. The heart of the Bolt lies in its electric motor, generating a robust 200 horsepower and 266 lb-ft of torque. This impressive power allows the Bolt to accelerate from 0 to 60 mph in just 6.5 seconds, delivering a thrilling driving experience that defies expectations. Moreover, the Bolt boasts an exceptional range of 259 miles on a single charge, according to the EPA. This extensive range ensures that you can embark on longer journeys without the anxiety of running out of power, providing a sense of freedom and convenience.
Competitive Pricing: Affordable and Value-Packed
When evaluating electric cars, pricing plays a crucial role in decision-making. The 2023 Chevrolet Bolt shines in this aspect as well, with a starting price of $31,000. This competitive price point positions the Bolt as one of the most affordable electric cars in the market, especially considering its remarkable range and impressive features. By offering exceptional value for the price, the Bolt caters to budget-conscious consumers who prioritize both affordability and quality.
Pros and Cons: Weighing the Factors
To provide a comprehensive perspective, let us examine the pros and cons of the Chevrolet Bolt:
Pros of Using Chevrolet Bolt
Affordable: The Bolt's competitive pricing makes it an attractive option for those seeking an electric car without breaking the bank.
Long Range: With its impressive range of 259 miles, the Bolt ensures a sufficient travel distance on a single charge, reducing the need for frequent recharging.
Good Performance: The Bolt's powerful electric motor allows for spirited acceleration, offering a thrilling driving experience.
Stylish Design: The modern and sleek design of the Bolt turns heads, making a statement on the road.
Available in Hatchback and Sedan Body Styles: The availability of both body styles provides flexibility in choosing a Bolt that suits individual preferences and needs.
Cons of Using Chevrolet Bolt
Not as spacious as some other electric cars: While the Bolt offers a decent amount of cargo space, it may not be as roomy as some other electric car models available in the market. Those prioritizing maximum interior space might find other options more suitable.
Slow charging speed: The Bolt's charging speed, although adequate for daily use, may be comparatively slower than certain electric cars with advanced fast-charging capabilities. It takes approximately 9 hours to fully charge the Bolt using a 240-volt charger, which may require some planning ahead for longer trips.
Some reports of battery fires: There have been reports of battery fires in a limited number of Bolt vehicles. However, it's important to note that Chevrolet has taken prompt action and issued a recall to address and rectify this issue, ensuring the safety of its customers.
Overall Verdict: An Excellent Electric Car Option
Considering the Chevrolet Bolt's exceptional range, impressive performance, stylish design, and affordability, it is undoubtedly a fantastic option for those in search of an electric car that ticks all the right boxes. While it may not offer the same spaciousness as some of its counterparts or the fastest charging speeds, the Bolt's overall package is hard to beat, especially considering its competitive pricing.
Before finalizing your decision to purchase a Chevrolet Bolt, it's essential to weigh some factors. Firstly, take into account the Bolt's range, which, although not the longest among electric cars, is still substantial for most daily commutes and regular journeys. If you anticipate longer trips, you might want to consider charging infrastructure availability and plan accordingly to ensure a seamless experience.
Secondly, it's worth considering your charging habits. The Bolt's charging speed may not be the fastest, so if you require quicker charging times or frequently embark on long-distance journeys, you may want to explore other options that cater to those specific requirements.
Lastly, be aware of the battery fire reports associated with the Bolt. However, it's important to note that Chevrolet has taken proactive measures by issuing a recall to address this issue, prioritizing the safety and satisfaction of its customers. By ensuring that your Bolt is part of the recall and having any necessary repairs performed, you can enjoy the peace of mind that comes with owning a reliable and secure electric vehicle.